ENPAC News
Posted on
Effective immediately, ENPAC has restructured the part numbers for the Storm Sentinel product line. The products and packaging have not changed. A detailed list is provided below.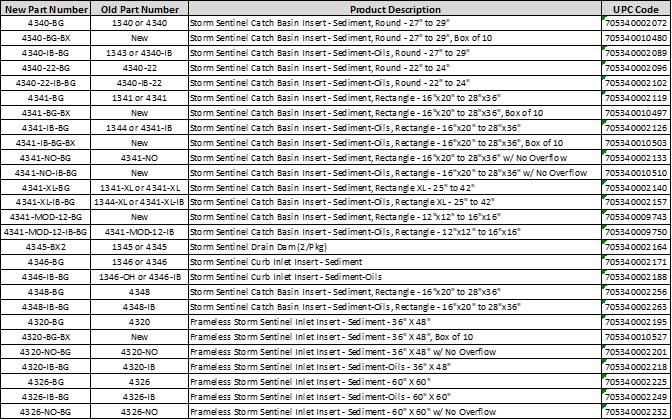 If you have any questions regarding these updates, please contact ENPAC's Customer Service Department at 800-936-7229 or by e-mailing us at info@enpac.com for further details.
Among the classes that I teach at the Weatherhead School of Management at Case Western Reserve University, one of my favorites is our International Institute, which includes a week long trip during our spring break. I've led groups of students to Morocco, Hungary, Chile, and, most recently, Argentina.We always hit a few interesting tourist spots [...]
ENPAC and our sister company Black Diamond ECO Solutions LLC is proud to be featured in Aim2Flourish with Exemplar Recognition under the title "Rainwater Catching to Preserve Water Globally" by Humzah A. Quereshy.View the full article at: http://aim2flourish.com/innovation/view/639/rainwater-catching-to-preserve-water-globally
The ENPAC Stinger PolyBerm Containment Systems are now available in new standard 3' and 4' sidewall heights.The previously offered sizes are now discontinued and have been replaced as follows:Discontinued Sizes/Items:45-1212-PB-L, 12'x12'x3' 45-1616-PB-L, 16'x16'x3' 45-1620-PB-L, 16'x20'x3' 45-2020-PB-L, 20'x20'x3' 45-2028-PB-L, 20'x28'x3' 45-2032-PB-L, 20'x32'x3' 45-2040-PB-L, 20'x40'x3' 45-2060-PB-L, 20'x60'x3' 45-2424-PB-L, 24'x24'x3' 45-2836-PB-L, 28'x36'x3' 45-4848-PB-L, 48'x48'x3' 45-100100-PB-L, 100'x100'x3' New Replacement Sizes, Now Also Available in 4' Sidewalls:45-21213-PB-L, 21'x21'x3' - Stinger [...]
The ENPAC Poly-Overpack 110 Salvage Drum, previously known as the 1240-YE, has been re-designed and now holds the part number 1040-YE. The 1040-YE unit includes all of the same great features as the old 1240-YE but now has double start threads which require only a half turn of the lid to tightly secure your leaking drums.This upgrade reduces in-field labor [...]
As the original manufacturer of the very first threaded plastic salvage drum, ENPAC has been protecting people and the planet for nearly 30 years with its comprehensive line of spill containment equipment.With a focus on innovation and quality, we are determined to bring our customers the most advanced products to maintain compliance. Our staff of [...]
Tough, durable ENPAC IBC 2000i containment units on the job at a mine site in Northern Australia. An Isreali Army unit practices fuel handling techniques on field exercises. ENPAC Stinger berms offer rapid deployment and material safety, regardless of the location or the mission. Emergency response workers in Australia train to enhance their skills in dealing [...]
ENPAC has been ranked as one of the Plain Dealer's Top Workplaces of 2015!CLEVELAND -- For the sixth straight year, WorkplaceDynamics has ranked the top workplaces in Northeast Ohio. Based on employee nominations and surveys, this year's list includes 150 companies in three divisions. A full list of Top Workplaces can be found here!
Business in Focus Magazine features ENPAC in their June issue!View here: http://www.businessinfocusmagazine.com/e_mag/BIFNAJun2015/
Special News BulletinTo: All ENPAC CustomersSubject: Part Number 1237-YE and ChemKlenz – DiscontinuedENPAC announces the discontinuation of the Poly-Overpack 95 Salvage Drum, Part Number: 1237-YE and the full ChemKlenz product line.Poly-Overpack 95 Salvage Drum:The 1237-YE has been replaced with two NEW Poly-Overpack 95 Salvage Drums. The NEW 1095-YE has a UN 1H2/X295/S rating and features [...]